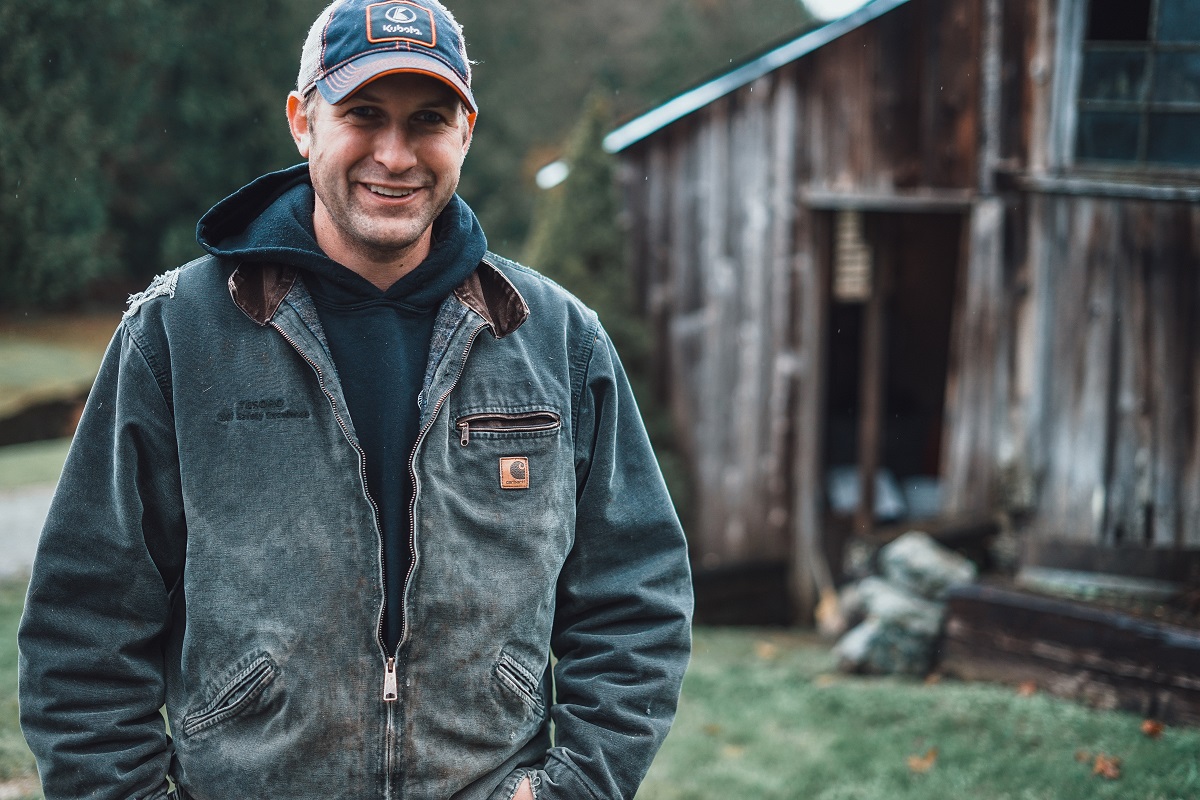 RCPP Background
Location: Mt. Vernon, Washington
Project Lead: Skagit County Public Works
Puget Sound RCPP Project Area: Nookachamps Basin. The Nookachamps watershed encompasses about 44,000 acres, much of it floodplains and wetlands. RCPP's goals include improving water quality and salmon habitat in the watershed.
Project Description: Installed livestock exclusion fencing and a gate for access. Future projects to include buffer planting and additional fencing.
Meet Tory Kowalczyk
It's a wet and muddy day when we arrive at the Kowalczyk farm. The wet weather and its effect on the grazing pastures is just one of the challenges that Tory Kowalczyk faces on his farm. Tory recently worked with Skagit County Public Works to tackle the challenge of keeping his cows away from a creek that runs through his property and is part of the Nookachamps watershed.
Three Generations of Farming
Tory is a third generation farmer. His grandparents, farmers from Poland, settled in the area shortly after World War II and started a new generation of farmers in Skagit County. As his parents entered retirement, they were at a crossroads about what to do with the farm. That's when Tory, who also works in construction, decided to step in and take over the 40-acre farm.
Serving the Local Community
Tory manages a small herd of cows and works with a local butcher to sell beef directly to customers in the community. With the current demand for locally sourced food, his business runs on "word-of-mouth" marketing, providing beef to people he knows through work, family and friends. "People really want to know where there food is coming from and how it was raised," Tory explained.
Walking the Talk
As Tory spent more time on the farm and building relationships with his customers, he wanted to align his farming practices with the values of his business. His cows had access to the wetland areas of his property and he wanted to change that. "I don't want to produce a product that is having a negative effect on the environment," he said. "We see the fish spawn in the creek and I don't want to be part of hindering that."
He talked to his father about finding some money to do some planting or fencing to protect the creek. Around that time, his father saw an advertisement about RCPP posted by the Skagit County Public Works and Tory decided to look into it. "That's how we got the ball rolling, talking about options and how we could do the fencing and the right things to do with the animals."
A Good Experience
Tory was initially hesitant about the program. "There was a lot of people who tried to talk me out of it." They are afraid that farmers will lose their land to buffers and won't have say in the implementation. But he took the first steps and found that Skagit County Public Works was "respectful about everything." Tory said, "We had inputs on fencing. There were some things we wanted to do differently and they worked it out."
Accelerating Conservation and Protecting Farmland
When asked what the program meant to him, he explained it was the opportunity to do the right thing. "You invest money where you can, try to be smart about it and do the right thing. So this is a huge help in keeping that going." He went further and said, "I love wildlife and salmon are huge in this area and I just don't want to be part of ruining that. So we want to make sure we're doing it right."
RCPP helped him accelerate steps to protect the environment instead of waiting until it was economically feasible. "Well, if there wasn't this program, I can't honestly say this would have happened, so we'd still be struggling with the cattle in the creek. It would have been years out before we would've been able to make this work."
Not only is the water protected, RCPP helps protect the farming community. As Tory explained, "The opportunity for me to farm here sets us apart. That's a big thing. If we couldn't farm this and make a little bit of income and keep it agriculture, it'd be lost. People would pay a lot to develop it."
Conservation Is Good for Business Too
Tory found that the improvements to the farm are helpful for his business too. "When I'm talking to potential customers, they feel good about the product so it helps sell stuff too. Customers want to be part of something good, even if they can't be a farmer themselves. Yeah, definitely it is good for business if you can share that story."
Story: Lorraine Nay, Alliance for Puget Sound Natural Resources
Photography: Courtney Baxter, The Nature Conservancy
This material is based upon work supported by the Natural Resources Conservation Service, U.S. Department of Agriculture, under award number: 68-0546-15-006. Any opinions, findings, conclusions, or recommendations expressed in this publication are those of the author(s) and do not necessarily reflect the views of the U.S. Department of Agriculture.